Judith Alderman
Post a Message of Sympathy
|
View Messages of Sympathy
|
Printer Friendly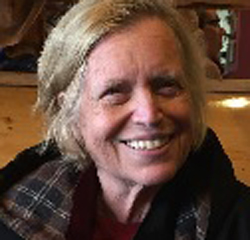 Judith Levy Alderman, 82, died early Tuesday morning at Francis House. Judy attended Canandaigua Academy, the University of Michigan, and graduated from the Syracuse University College of Law. She was active in many community organizations, including the board of the Manlius Library, the FM Board of Education, the Onondaga County Bar Association and the Women's Bar Association. She retired from full time practice as a lawyer as a senior deputy county attorney, spending her last 9 years with the county as the head of the Family Court unit. She then served as a consultant for the ABA, as well as being in private practice primarily representing children.
Judy was pre deceased by her husband Warren B. Marsula, her parents Ethel and Samuel Levy, and her sister Nancy Jo Levy.
She is survived by her children Steven, James (Pamela), and Dr. Tracy (Karen); her children's father Edward Alderman; grandchildren Julie, Sam, Kelly, and Brian; her sister Bonnie Wertheim; 2 nieces; and her beloved partner of many years Dr. John Glezen. A gathering of family and friends will be held in the later spring to celebrate Judy's life.
www.sisskindfuneralservice.com
Message of Sympathy

Post a Message of Sympathy
Judy was a wonderful mentor when I was a law student. My deepest sympathy to her family and colleagues.
Written by
Amy Zell
2019-05-07 8:32:32 PM
---
To John and Judy's children. On behave of the Canandaigua Academy Class of 54, please accept our sincere symphathy for your loss. Our class stayed very close over the years and still meet regularly and communicate all the time. So you can be sure Judy and you will be in all our prayers. Please let me know when that memorial service will be as some of us my want to come to Syracuse for that. Again she will be missed by never forgotten.
Written by
Joanne Sweet
2019-05-07 9:56:08 PM
---
So sorry to hear of her passing, sending prayers to her family and friends. So many fond memories.
Written by
Stacey Balduf
2019-05-08 11:55:13 AM
---
Judy was a great woman and I enjoyed working for her and meeting her through my friend Jim. I send my sympathies to the whole family.
Written by
Robin Gross
2019-05-08 6:44:15 PM
---
I just heard of Judy's passing and need to express my condolences to her family. Judy was an amazing woman and an inspiration to family and friends. Mark and I were deeply saddened to hear of her passing. Mark & DJ
Written by
DJ Marsula
2019-06-18 2:25:55 PM
---
Bob and I are very sorry to hear of Judy passing. My condolences to her family. She was a very nice and warm person.
Written by
Michele Fairey
2019-06-18 2:31:48 PM
---