Howard Suslow
Post a Message of Sympathy
|
View Messages of Sympathy
|
Printer Friendly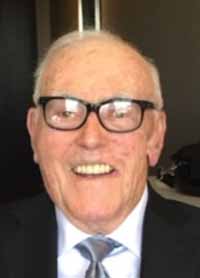 Howard Suslow, 92, died Thursday evening, November 28 at Crouse Hospital as a complication of a fall. Born in the Bronx Howard had been a resident of Syracuse for his entire married life of 61 wonderful years to Renee Greenhouse Suslow. Howard, a graduate of NYU, also loved everything about NYC..He was a principal of Pilgrim Meat Packing Company of E.Syracuse, until retiring. For more than 50 years Howard's personality and sales acumen grew the company to great success.
He loved golf, playing cards, The Yankees, watching basketball, football and baseball; trips to Vegas; Frank Sinatra; Wegman's; and Turningstone.
Howard will forever be remembered for his hearty laugh, big smile and never being a gloom and doom kind of guy~ He lifted everyone's spirits just by walking into a room!
He is survived by his wife Renee ; their daughters and their husbands
Wendy and Marc Rudofker, and Lisa and Michael Wachs; their grandchildren Dr Eric (Maggie Fitzgerald) Rudofker, Adam Rudofker, Adam Wachs and Danielle (Shelby ) Rosenberg; their great granddaughter Jocelyn Rosenberg; his sister Nancy Ragovin and her children Scott , Clifford and Stacy. Howard was predeceased by his nephew Seth.
Funeral services were on Friday November 29 at Sisskind Funeral Chapel.
Burial was in Adath Yeshurun Cemetery.
Contributions in his memory may be made to Temple Adath Yeshurun.
Message of Sympathy

Post a Message of Sympathy
Deepest sympathy from the Madia Family
Written by
Dominick Madia
2019-11-29 1:35:37 PM
---
with lamentation and deep sorrow our heart-felt ahavah (love) for the family endures.May peace enter your life and blessings ensue to a close-knit and wonderful family.
Written by
niles Greenhouse MD
2019-11-29 9:39:41 PM
---
A wonderful man ! He loved family and friends. Howard will be missed by all . A true mench !
Written by
John Julian
2019-12-05 9:23:17 PM
---
Howard was truly one of a kind in all the good ways. He will be missed.
Written by
Daniel Rabuzzi
2019-12-08 11:58:10 PM
---
Sorry for your loss
Written by
Tom White
2020-02-18 12:40:03 AM
---