Irving Wagner
Post a Message of Sympathy
|
View Messages of Sympathy
|
Printer Friendly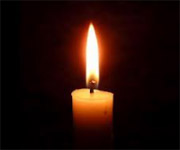 Irving Wagner, 97, died Thursday at St. Joseph's Hospital. Born June 1, 1923 in Lithuania to David and Anna Wagner, he had been a resident of Syracuse since childhood. During his professional career he was a cattle dealer in Adams, NY. Irving was also a licensed real estate broker specializing in farms.
Irving met the love of his life, Louise, while she was a student at Syracuse University. They were married and made Syracuse their home. Irving was a member of Temple Adath Yeshurun.
Irving will forever be remembered for his love of his family, poetry, writing, golf, his wonderful sense of humor and his kindness.
He was an adoring husband to his wife Louise of blessed memory. They had been married for 58 years when she died in 2008.
Irving is survived by his children Steven (Julie) Wagner, Randy (Arie) Guthartz and Susan (Michael) Levy; grandchildren Mikkel (Tom), Robyn (Robert), Joshua (Maria), Daniel (Stephanie), Rachel (fiance Mike) and Nicole (Steven); great grandchildren Andrew, Mackenzie, Lily, Gracie, Olivia, Maya, Justin, and Benjamin; and his dear companion Norma Maddy. He was also pre-deceased by his longtime companion Git Radin.
The family gives heartfelt thanks to his compassionate caregiver Joyce for her dedication and care.
Graveside services in Adath Yeshurun Cemetery will be for the immediate family only.
Contributions in his memory may be made to The American Cancer Society.
www.sisskindfuneralservice.com
Message of Sympathy

Post a Message of Sympathy
My family would like to offer their condolences to Steve and the entire Wagner family. I know Irv will be greatly missed. A true family and caring man. Last of the greatest generation. Take care and peace to all. Reg Grandjean
Written by
Reg Grandjean
2021-01-08 9:37:48 PM
---
Dear Steve, Julie and family Sorry to hear about the passing of your Dad. Our prayers and deepest sympathy are with you all. May your memories help comfort you during this difficult time. Love Patrick, Denise, Merissa and Brittany
Written by
Denise Lynch
2021-01-09 5:32:08 AM
---
My mother Ceil Seidberg and my aunt Betty Wallace were cousins to Irving. Your father was always friendly, smiling, and joking. He displayed a warmth and kindness to my mother and my aunt which was appreciated. May his memory be a blessing to your family.
Written by
Jerry Ryen
2021-01-09 7:52:58 PM
---