David Isadore Stern
Post a Message of Sympathy
|
View Messages of Sympathy
|
Printer Friendly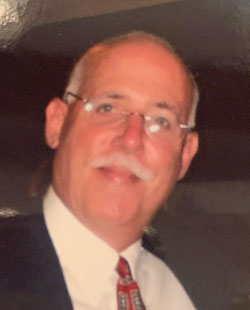 David Isadore Stern, 66, succumbed to COVID=19 on Friday, January 22 at University Hospital after a short and heroic battle.
He was born November 18th, 1954 in Utica, NY to Marilyn and Jack Stern. He spent his life in Utica amongst friends and family. He went to JF Hughes grade school and graduated from Utica Free Academy. David worked at Tahan Furniture for more than 25 years always exemplifying loyalty, dedication and honesty.
David, aka "The Commish" was also an avid and accomplished golfer and bowler. He was an inductee to the Utica Bowling Hall of Fame. He enjoyed the sport with friends, his brothers, and most of all his nephews. His devotion to his family was demonstrated by his kindness and willingness to be there when needed, including helping his mother until she passed away at age 84.
He was fortunate to have a group of close and devoted friends who always had his back while he had theirs; Peter Cahill, George and Shelly Kelley, Gary Grabinski, and Al, Bernadette, and Jenny Tahan.
David is survived by his many nieces and nephews, as well as his brothers and their spouses: Sam and Roxanne Stern of Sarasota, FL; Howard and Terry Stern of Rochester, NY; and Bob and Kathy Stern of Saratoga Springs, NY. He will be deeply missed by his friends and family.
A private graveside service for the immediate family will be in Beth El cemetery, Whitesboro, with a memorial service to be scheduled in the spring when COVID restrictions allow.
www.sisskindfuneralservice.com
Message of Sympathy

Post a Message of Sympathy
Shocked to hear that Dave passed away. He always had a kind word and friendly demeanor. Condolences to his family.
Written by
Bob Meyers
2021-01-24 2:16:21 PM
---
In loving memory of a wonderful human being, Dave always had the most welcoming smile. I will always remember that about Him when I would see him at Joe Tahans. Dennis & Carolyn Grimaldi
Written by
Dennis Grimaldi
2021-01-24 4:51:38 PM
---
Sorry to hear of David's passing. I remember him coming to visit his mom when she worked at Faxton.
Written by
Terry Boehlert
2021-01-24 7:53:29 PM
---
I was shocked to see this. I first met you in bowling leagues years ago. Bowled with you and against you. You were always the ultimate pro. I later bought so much of my furniture from you, because of your honesty. Every time we needed furniture, I'd tell my wife, I'm going to see David at Joe Tahan's to get it. I'm sure you are throwing strikes up there just like you did down here. Rest In Peace David.... Condolences to all of your family and friends...
Written by
Steve Gonyea
2021-01-30 1:07:56 AM
---