Renee Greenhouse Suslow
Post a Message of Sympathy
|
View Messages of Sympathy
|
Printer Friendly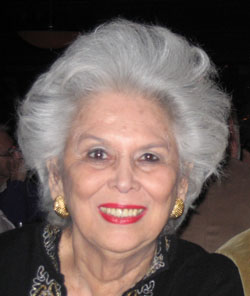 Renee Greenhouse Suslow, 87, died peacefully Monday at her home. Renee was a life resident of Syracuse. She was born May 10, 1933 to William and Rose Greenhouse.
When her husband Howard passed in November of 2019, they had been married for 61 wonderful years. Renee was a graduate of Sarah Lawrence College. She was a member of Lafayette CC, Temple Adath Yeshurun, and a life member of Hadassah.
Renee will forever be remembered for her devotion to her family, especially "her girls", her tenacity, her wit and her daily completion of the New York Times crossword puzzle - in ink. She had a love for music and was a skilled piano player.
She is survived by her daughters and their husbands, Wendy and Marc Rudofker, and Lisa and Michael Wachs; her grandchildren Dr. Eric (Maggie Fitzgerald) Rudofker, Adam Rudofker, Adam Wachs and Danielle (Shelby) Rosenberg; her great granddaughters Jocelyn Rosenberg, and Noa Rudofker.
Private graveside services are in Adath Yeshurun Cemetery.
Contributions in her memory may be made to Temple Adath Yeshurun.
www.sisskindfuneralservice.com
Message of Sympathy

Post a Message of Sympathy
Wendy, Lisa & Families, My deepest condolences for you with the passing of Renee. Both your parents were wonderful and Renee always had a smile. I'll remember her fondly. Brian & Pat Greenhouse
Written by
Brian Greenhouse
2021-02-01 5:41:30 PM
---
Lisa and Michael, Wendy and Mark and the whole family, We are so sorry for the loss of your mother, grandmother and great grandmother. She was a wonderful role model for all of you, and she together with your father raised such a fine family. You should all be comforted with the mourners of Zion.
Written by
Carolyn and Moish Rosenberg
2021-02-01 8:31:13 PM
---
Sincere condolences to the family.
Written by
Sherry Meltzer
2021-02-02 1:28:02 PM
---
With Tsoros and deep lamentations to your families on the departure of Renee on leaving this world.To Wendy and Marc; Lisa and Michael; Eric the Orthopedic Surgeon both Adams Jocelyn and Noa may G-d bless you all.Ahavah or love is the description I have for Renee which is depicted in all her family.The Baal Shem Tov once said OR (light) is the same number of raz (secret). Whoever knows the secret in everything can bring illumination. That was Renee. Baruch HaShem
Written by
Niles GreenhouseMD
2021-02-02 6:44:06 PM
---
Our Deepest Hart felt Sympathy from Doreen and I.
Written by
Dominick Madia
2021-02-05 2:30:00 PM
---
Condolences to a woman of valor.May your family be surrounded with loving kindness and faith.Baruch HaShem
Written by
Sean and Andrea Greenhouse
2021-02-20 2:25:02 PM
---