Lilith Otto Budman
Post a Message of Sympathy
|
View Messages of Sympathy
|
Printer Friendly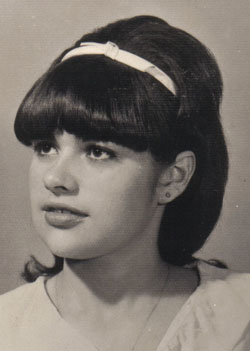 Lilith Otto Budman, 71, of Yonkers, passed away at Menorah Park, in Syracuse, on Wednesday, February 3rd.. Lili, as she liked to be called, was born in Eschwege, Germany. She was the daughter of holocaust survivors Sophie and Chaim Otto. They moved to Pelham Parkway, in the Bronx in 1950, where she was a 1966 graduate of Christopher Columbus High School as seen in the photograph.
Lili, a 1970 graduate of Lehman College (now known as Hunter College) majored in English Literature and minored in Education. Lili went on to receive two master's degrees in English Literature, one from Lehman the other from NYU. Lili was an English teacher at Alfred E. Smith High School in the Bronx. She left teaching to help her husband Michael run their family business; Gramatan Pharmacy in Mount Vernon, NY until they sold it in 1984. Lili went on to be a recruiter for mechanical engineers at Acme Inc. in Elmsford, NY. She then spent the next 20 years as a Vice President at an executive search firm, RJ Associates in White Plains, NY.
Lili loved being from New York City. She loved everything about NYC, from Broadway shows, to the restaurants and especially the shopping. She was a devoted wife and loved spending time with all four of her grandchildren.
Lili was married to her beloved husband Michael for 49 years until his passing in March of 2019.
.
Lili's family includes her daughter Gillian Kanter and her husband David, their two daughters, Sydney (10) and Ava (6); her son Zachary and his wife Cassie, and their two children Tovah (5) and Ari (2); her sister Mimi Arlequin; and her closest friend Paulette Dinnerstein.
Graveside services for the immediate family will be in Memorial Park, Avon, CT on Monday, February 8th.
Donations in Lili's memory may be made to Menorah Park, Syracuse, NY.
www.sisskindfuneralservice.com
Message of Sympathy

Post a Message of Sympathy
Hello: I am so sorry to see this. Lil and I grew up together and were close friends. To David, I am Josh Wolkomir's dad. Also, Rhonda Holtzman's cousin. My deepest condolences to the entire family. Kindest Regards, Ted Wolkomir
Written by
Ted Wolkomir
2021-02-03 11:03:12 PM
---
I am so sorry to hear the passing of Lilith Budman. I worked with her at RJ Associates for five years. She was a wonderful, kind, intelligent, charismatic, woman. It was always a pleasure to chat with and work with her. She was a pro at the challenging New York Times puzzles and was extremely knowledgeable in all areas from history, Broadway, literature, etc. LiL loved her husband and children dearly. She will be greatly missed. My deepest condolences to the entire Budman family and closest friends.
Written by
Cheryl Nyman-Steinberg
2021-02-04 2:37:04 AM
---
I am so sorry to learn of Lili's passing. We were friends in high school and met again at our 30th year reunion. Many condolences to her family and friends.
Written by
Enid Lang
2021-02-05 12:11:37 AM
---