Milton Mickey Pellman
Post a Message of Sympathy
|
View Messages of Sympathy
|
Printer Friendly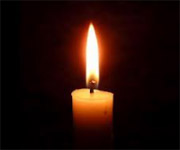 Milton "Mickey" Pellman, 88, died peacefully on Thursday, February 18, 2021 at the VA Hospital, Syracuse, NY.
Born August 10, 1932 in Syracuse to Maurice and Ada (Volansky) Pellman, he was a lifelong resident of Syracuse.
Mickey was a graduate of Central HS, a proud veteran of the US Army, a member of Jewish War Veterans Post 131, and a member of Temple Adath Yeshurun.
During his working career he was affectionately known as a "huckster", a wholesaler of fresh fruits and vegetables
in the Syracuse area; and also drove taxi for City Taxi/Century Transportation for more than 40 years.
Mickey was an avid SU sports fan. He loved his weekly card games. The men played cards at one house and their wives played Mah Jong at another...it was the secret to a happy marriage.
Mickey always referred to his family as "his wealth". His love for them will endure forever.
Mickey was predeceased by his beloved wife Linda of 31 years, who passed in 1996.
His family includes their children Mark (Mary), Amy and Scott; grandchildren Brittany,Kayla, Alexandra (Tyler), Nikki (Ryan), and Sydney; and several nieces and nephews.
Due to COVID restrictions, a private graveside service will be held on Sunday at Adath Yeshurun Cemetery.
Contributions in his memory may be made to a cause to benefit veterans.
www.sisskindfuneralservice.com