Ellen Rothschild
Post a Message of Sympathy
|
View Messages of Sympathy
|
Printer Friendly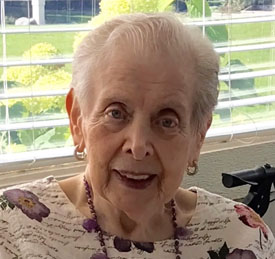 Ellen Rothschild, 94, passed peacefully at home Tuesday evening with her family by her side. The youngest of Samuel and Fannie (Spevak) Roth's four children, she was born on February 5, 1927 in Syracuse, and lived most of her life in the area.
A graduate of Nottingham High School and Syracuse University, Ellen was a proud life-long member of Amit Women, Temple Adath Yeshurun, and the Temple Sisterhood. A role model for her children and grandchildren, Ellen was very down to earth, having a keen sense of humor, and moved with grace throughout her life. Loved by her many nieces, nephews and relatives of all generations, she became the matriarch and family historian.
Ellen was predeceased by Sidney Israel Rothschild, her beloved husband of 61 years, and their oldest son, Joel Seth Rothschild. Her family includes her children Phil (Nancy), Mark (Naomi Lokoff), and Tina (Michelle Miller), and her grandchildren Seth (Hayley), Ethan, Ariana, Aidan, Jeremy and Adam.
The family would like to extend their gratitude to Hospice of CNY for all of their assistance. Donations can be made to a charity of your choice. No flowers please.
Graveside service for the immediate family will be at Frumah Packard Cemetery. The service will be livestreamed on the Sisskind Funeral Service Facebook page beginning at 10:55AM on Friday, March 12.
www.sisskindfuneralservice.com
Message of Sympathy

Post a Message of Sympathy
Sending my deep sympathies. Dr. Levy
Written by
Dr. Leonard Levy
2021-03-10 11:07:13 PM
---
Elke (as my mother and I called her) was a remarkable and loving, glass half full woman. I cherished my relationship with her as I am really not in touch with so many of the family. I would smile long after I had hung up the phone after talking to her. She was sharp as a tack and she was always a pleasure to talk to and be with. May her memory be forever for a blessing. I send sincere condolences to the family from myself, my husband and family and my sister Chana.
Written by
Sheila Fay
2021-03-11 1:35:07 AM
---
It is with great sadness that I am sending the family my sympathy and understanding for a very special lady. Ellen and I have known each other as long as I can remember and she lived her life with dignity and respect. Many happy memories were made being with Ellen and Sidney.
Written by
Ruth Wandner
2021-03-11 6:09:42 PM
---
We were so sorry to hear of Ellen's passing. She was one of the Great Ladies of Amit, when we still had the organization in Syracuse. She was sweet and very funny and we all had such a great time together raising money for the schools in Israel. Our prayers are with the family at this time. Sincerely, Ceil and Lynn Cohen Dr. Phil and Milly Cohen were Lynn's parents. They were good friends with Ellen and Sid.
Written by
Cecile and Lynn Cohen
2021-03-11 7:24:02 PM
---
So sorry for your lose.
Written by
Rose Baum
2021-03-12 3:42:28 PM
---
My deepest condolences to the family prayers for everyone. I am a aide at The Nottingham Ellen is surely gonna be missed she was such a sweetheart one of my favorites me and her used to sit and talk and laugh it was always a great conversation went I went into her apartment you will be missed Ellen
Written by
Missy Hunt
2021-03-12 3:48:29 PM
---
I will miss Ellen who I have known her whole life. We have many memories that we shared on our annual birthday calls on Feb 5th. She will truly be missed.
Written by
Bernice Spevak/Silverman
2021-03-12 4:29:41 PM
---
I was very saddened to hear of Ellen's passing. She was so lovely and fun. We had some hilarious as well as serious conversations and she has been much in my thoughts this whole last year. I was looking forward to seeing her when all of this was over. I will miss her greatly. The world loses a good spirit.
Written by
Ros Volk
2021-03-14 3:26:05 PM
---
I am so sorry for the family's loss. Ellen was known to be thoughtful, kind, and very friendly. She will truly be missed.
Written by
Paul Kamens
2021-03-21 11:07:03 PM
---