Annette Rosilio Rothman Birnbaum
Post a Message of Sympathy
|
View Messages of Sympathy
|
Printer Friendly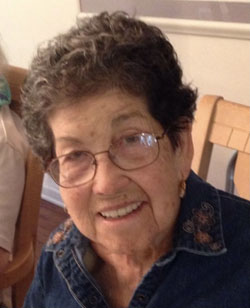 Annette (Rosilio) Rothman Birnbaum, formerly of Syracuse, NY, died Tuesday, March 16th in Baltimore, MD. She was 94.
Annette was predeceased by two loving husbands, Norman Rothman in 1965 and Armin Birnbaum in 2003, as well as her brother Morris and sisters Aimee and Hortense.
Annette was born and raised in Marrakech, Morocco. She was the eldest of seven surviving children born to Solika and Yehoshua Rosilio of blessed memory. She met her first husband Norman while he was stationed in Ben Guerir serving in the United States Air Force. Annette subsequently lived on military bases in Florida, Louisiana, Oklahoma and Japan during Norman's service, where the family was very involved in each local Jewish community and active in outreach for Jewish service members. Annette settled in Norman's hometown of Syracuse following his untimely passing. She later re-married to Armin, who helped raise her four children as his own.
Annette first utilized her exquisite sewing skills working as a seamstress, but soon employed her fluency in French as a typist for Onondaga Community College's Foreign Languages Department, a position she held for 22 years. She found joy in retirement caring for her granddaughter and cooking incredible Shabbat and holiday meals for her family. Her final years were spent in Baltimore where her daughter and grandchildren visited regularly and she was blessed to know so many of her great-grandchildren.
Annette is survived by her son Mayer Rothman of Syracuse, NY; three daughters, Rachel Rothman of Cicero, NY, Debra (Allan) Kessler of Baltimore, MD, and Ruth (Jeffrey) Rothman of Thornhill, ON; one sister, Rina Kadoch of Bat Yam, Israel; two brothers, Eli (Tziona) Rosilio and Daniel (Devorah) Rosilio of Bat Yam, Israel; 13 beloved grandchildren; and 37 (yes, 37!) precious great-grandchildren.
In lieu of flowers, please send donations to Sterling Care Assisted Living at 3617 Seven Mile Lane, Baltimore, MD 21208.
Graveside services in Shaarei Torah Orthodox Congregation of Syracuse's section of Oakwood Cemetery will be for the immediate family. The service will be live streamed on the Sisskind Funeral Service FaceBook page beginning at 9:55AM on Thursday March 18
Virtual Shiva will be Thursday, Saturday, Sunday, Monday, Tuesday, and Wednesday evenings led by Rabbi Fellman, or Cantor Eglash at 7PM Please follow this link:
https://zoom.us/j/92350426825?pwd=WG1pVHJ6YzFvLy96YmE4alY5L2tnUT09