Herbert "Hecky" Alpert
Post a Message of Sympathy
|
View Messages of Sympathy
|
Printer Friendly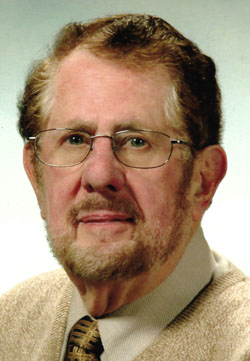 Herbert "Hecky" Alpert, 94, died Thursday evening at his home surrounded by his loving family. Born on April 1, 1926 to Joseph and Ida Alpert he was a life resident of Syracuse.
The Alpert family was one of the original founding families of Congregation Beth Sholom Chevra Shas in 1962. Hecky was honored to serve as the first President of the congregation. His life was dedicated to his family, and the growth and success of the congregation.
A supporter of Jewish life, traditions and organizations throughout his life, Hecky was the well respected author of "Louis Marshall 1856-1929".
Hecky earned his degree in accounting from Syracuse University and began his accounting career in 1953 when he joined the firm of Levine and Leffert. He was certified as a public accountant in 1971~ the same year he became a partner in Levine and Leffert. When he retired he was the senior partner of Alpert, Stearns, Daley and LaCombe of Fayetteville, NY
He proudly served in the US Army during the Korean War and received a meritorious commendation as an educational specialist.
His family includes his wife Ettarae of more than 66 years; their children Mark,
Susan (Dr. James) Litynski, Carol (Greg) Dyson, and Robert (Amanda); and grandchildren Aleksander, Gillian (Harry), Sara, Jacqueline, Hannah
Graveside services in the Beth Sholom section of Oakwood Cemetery will be for the immediate family.
Contributions in his memory may be made to Congregation Beth Sholom Chevra Shas, PO Box 271, Dewitt, NY 13214