Neil Varon
Post a Message of Sympathy
|
View Messages of Sympathy
|
Printer Friendly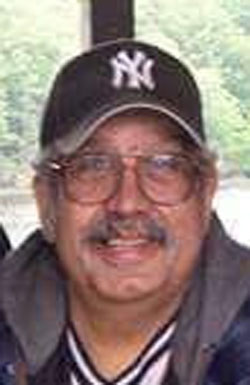 Neil Varon, 70, passed away peacefully on Tuesday, April 27 at Van Duyn where he had recently resided.
Born on June 15, 1950 to Max and Anne Varon, he had been a life resident of the NY Metropolitan area until
moving to Syracuse.
Neil served the federal government in the US Postal Service for 40 years until retiring. He sorted and diverted
mail to air mail facilities at Laguardia, and Kennedy airports; retiring as a supervisor.
Neil was a man of simple pleasures. He loved his wife, children, and pets; enjoyed singing; and sports.
He will forever be remembered for unique, joyous laugh and the wonderful stories he loved to tell again, and again.
He was predeceased by his wife Rosemarie. They had been married for 35 years. He was also predeceased by
his brother Alan.
Neil's family includes his daughters Eve (Elmer) Ryan and Sarah (Yamil Morales) Varon; his grandson Jimmy Ryan;
his brother Eric (Joann) Varon; his sister Marlene Varon; his sister-in-law Irene Varon; many nieces, nephews, cousins, and a large and
loving extended family.
Contributions in Neil's memory in lieu of flowers may be made to the Alzheimer's Association, or plant a
tree in Israel www.jnf.org
Private services and burial are in Workman's Circle Cemetery were for the immediate family.
To virtually attend the service please log in to Facebook, search for the Sisskind Funeral Service page,and the stream will begin at 10:50AM on Friday April 30.
Message of Sympathy

Post a Message of Sympathy
Growing up, Neil was the older brother everyone wanted: big and strong, kind and sweet, dependable and protective. I remember Neil bringing me home to make sure I got there safely after a sleepover or a hang out with my best friend, Marlene. Now he has gone home, and I can only think it was much too soon. My condolences to Marlene, Eric, Neil's children and loved ones. Myra Shapiro
Written by
Myra Shapiro
2021-04-29 10:24:21 PM
---
My deepest condolences to Marlene, Eric and the rest of the family.
Written by
Michele Spiegel
2021-04-29 10:55:12 PM
---
I loved Neil's laugh and his ability to make you feel comfortable to be in his presence. My deepest condolences to his family. Warmest regards, Leslee
Written by
Leslee Zipper
2021-04-29 8:44:08 PM
---
Neil was a wonderful sweet man
Written by
Anthony Cuschieri
2021-04-30 3:28:19 PM
---
Condolences to Neil's family & friends. I knew Neil since grammar school in the 60's in ENY Brooklyn. Years later he came to the PO to work & we met again. Several years later I was his Supervisor. He always had a story to tell or a joke to make you laugh. He was well liked by his JFK PO co workers & I am sure he may be gone but not forgotten. Rest In Peace Friend & Co worker. My deepest Condolences to his family. One great guy gone too soon.
Written by
John Visconti
2021-07-06 3:34:43 AM
---