Jerry Goodisman
Post a Message of Sympathy
|
View Messages of Sympathy
|
Printer Friendly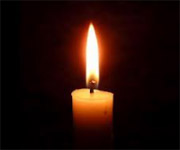 Jerry Goodisman, 82, of Syracuse, NY died peacefully in Francis House, Syracuse, May 2, 2021.
Born on March 22, 1939, Jerry was the son of Abraham and Ida (Machover) Goodisman. He grew up in Brooklyn, NY, graduated from Stuyvesant High School, earned his undergraduate degree from Columbia University and his Ph.D. from Harvard University.
Goodisman was a chemistry professor at Syracuse University for more than 40 years, and also served as vice-chair of the department. He mentored upper-level and graduate students and made introductory courses accessible to undergraduate students from all disciplines. He authored textbooks and scientific articles that advanced the field of physical chemistry. He had become most excited about applying his theoretical approaches in scientific collaborations that advanced human health.
Fluent in English, French and Yiddish, Jerry loved literature and all kinds of puzzles and riddles. An accomplished violinist, he was also an active athlete who played handball and tennis, and an avid cyclist and cross-country skier. Jerry embraced the culture and climate of central New York, and he was an enthusiastic supporter of Syracuse University sports. He enjoyed engaging in academic discussions surrounded by friends and family. He maintained bonds with school friends and colleagues throughout his life.
He is survived by his beloved wife of nearly 58 years, Mireille (Eifermann), daughter Nathalie Cornelius, son Michael, son-in-law Eric Foster, daughter-in-law Janet Hatt, grandchildren Stefan Cornelius and Sofie Foster, step-grandchildren Sarah and Sean Foster, brother Leonard, and sister-in-law Nancy.
Jerry's warmth, humor and generosity will be dearly missed.
Due to Covid restrictions, funeral services will be private for the immediate family. They will be held at the Beth Sholom section of Oakwood Cemetery in Syracuse.
www.sisskindfuneralservice.com
Message of Sympathy

Post a Message of Sympathy
Jerry's passing gives me profound sadness at his loss, yet such gratitude for having had the privilege of knowing him. His lifetime achievements were only surpassed by his immense humility. His always welcoming kindness and humor will never be forgotten. My deepest condolences to Mireille (Jerry's greatest gift in life) and all of his wonderful family. You are all in my prayers.
Written by
Jim Hoppe
2021-05-03 7:31:45 PM
---
Dear Mireille, I am so sorry for the loss of your dear husband and companion. RIP. Vincent Hevern, sJ
Written by
Vincent W. Hevern
2021-05-04 2:18:04 PM
---
Dear Mireille, Sending my sincere condolences to you and your family at this difficult time of great loss. Sincerely, Inga Barnello, Le Moyne College
Written by
Inga Barnello
2021-05-04 3:11:05 PM
---
With deep sympathy and prayers for the family at this time.
Written by
Jacqueline Belfort-Chalat
2021-05-04 3:19:18 PM
---
May you and your family be comforted in the loss of your loved one.
Written by
Robert Anderson
2021-05-04 3:37:47 PM
---
Dr. Goodisman was such a great man, mentor, scientist and educator. I fondly remember working on science, publications and joking around with him. He will be missed. Dawn and I send our deepest sympathies and love to Mrs. Goodisman and their family.
Written by
Anthony Di Pasqua
2021-05-04 3:48:37 PM
---
Dear Mireille, We've only met a few times at Le Moyne over the years, but I wanted to let you know how sorry I am for Jerry's passing. Please know that I'll be thinking of you and your family in the days and weeks to come. Best, Maura
Written by
Maura Brady
2021-05-04 4:00:43 PM
---
Chere Mireille, I am so very sorry to hear of your loss. Please know that I am sending sympathy to you and all your family in this difficult time. Julie Olin-Ammentorp
Written by
Julie Olin-Ammentorp
2021-05-04 4:20:56 PM
---
Chère Mireille, Je suis vraiment navré d'apprendre le décès de Jerry. De tout coeur avec toi, je t'adresse mes sincères condoléances.
Written by
Br. Leonard Marsh
2021-05-04 5:37:06 PM
---
Dear Mireille, I'm so sorry for your loss.
Written by
Barbara Blaszak
2021-05-04 8:24:22 AM
---
Les mots nous manquent face à la mort. Je t'assure de mon union et de ma solidarité avec toi dans notre amitié, qui m'est très chère. Que Jerry soit en paix avec le Dieu d'Abraham, d'Isaac, et de Jacob.
Written by
Don Maldari
2021-05-05 12:28:32 AM
---
Jerry est et sera toujours mon oncle d'Amérique. Par sa douceur, son humour et son intelligence, il m'a inspiré et m'a donné envie de devenir comme lui un universitaire. Plein de tendresse transatlantique à ma tante Mireille et mes cousins Nathalie et Michael.
Written by
David El Kenz
2021-05-05 1:53:45 PM
---
Dear Mireille, Our sincerest sympathies for your great loss. Jerry was a true friend and a charming and wonderful man. He will be sorely missed. We argued politics for 30 years, yet remained devoted friends in no small measure as a result of his forbearance, humor and kindness. Much love, Susan and Jon
Written by
Jon Zubieta
2021-05-05 2:06:53 PM
---
Our deepest sympathy to Mireille and other members of the Goodisman family on Jerry's passing. He was a rare combination of intelligence and warmth. He will be missed. Hilary & Lewis Josephs
Written by
Hilary Josephs
2021-05-05 5:10:40 PM
---
Mireille, ma sœur de cœur, le martyre de Jerry a pris fin mais votre amour survit Comme lors de nos dix ans je te prends par la main et te soutiens de toute mon affection, Majo
Written by
Marie-Geneviève DEZES
2021-05-05 9:12:24 AM
---
Dear Mireille, We grieve over your great loss. Jerry was my cycling and ski companion, longtime scientific collaborator and he, with you, introduced me to Tania who would become my wife. Jerry was my best friend. We will dearly miss his kindness, humility and humor which touched us and all who met him. With all our love, Jim and Tania
Written by
James Dabrowiak
2021-05-06 9:01:30 PM
---
I took a course in advanced physical chemistry from Dr. Goodisman when I was working on my PhD at SUNY-ESF. He was a wonderful teacher. He made a challenging subject just so clear and understandable. He had a gift of lifting you up to a higher level of understanding without you knowing how you got there. I will miss his warm and unassumming smile.
Written by
Don Hughes
2021-05-07 2:17:09 AM
---
I was a student of Madame Goodisman at Le Moyne in the early 70's and have fond memories of my time as one of five French majors. I am so very sorry to learn of Dr. Goodisman's death but I know that his legacy will endure through all the joys shared by family and friends.
Written by
Elizabeth Fleury (Aitken)
2021-05-08 8:50:34 PM
---
Mireille, please accept our condolences and our deepest thoughts and sympathy. Jerry was many things to me; a teacher, a tennis partner, a music partner, and most of all a very good friend! He will be missed!! Kathleen & Hani.
Written by
Hani Khouri
2021-05-13 1:16:30 PM
---
Jerry is my doctoral thesis mentor and my life-time mentor.I am so shocked to know his passing away and I am speechless at this moment of mourning. My simple and deep condolence to Mireille and the family. Jerry will not be just a memory to me. He is a beacon, enlightening me forever.
Written by
Zhimin Tao
2021-05-18 8:51:35 PM
---
I have many good memories of Jerry from Wednesday evening tennis, as an electrochemist close to my own field of semiconductors, and as a spirited and lovely person and colleague. My condolences to his family - Eric Schiff
Written by
Eric Schiff
2021-05-29 11:30:23 PM
---