George Feldman
Post a Message of Sympathy
|
View Messages of Sympathy
|
Printer Friendly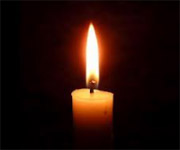 George Feldman, 87, passed away at Francis House on Friday May 14.
Born in Hungary, after fleeing with his mother from Nazi occupation, has lived most of his life in Syracuse.
George was a technician and dedicated union official for General Electric in Syracuse until retiring.
He was a former member of Temple Beth El.
George was pre-deceased by a daughter, Wendie Feldman Moore in 2015
He is survived by his beloved wife Irina, his daughter Deborah Feldman Vigeant, his son Lester Feldman, and his grandsons Benjamin Moore, and Marc Vigeant.
George's sense of humor, ability for wonderful conversations, and intelligent perspective, will be missed by all who knew him.
Private services and burial in Beth El Cemetery beside his daughter Wendie of blessed memory are for the immediate family.