Yetta Biben
Post a Message of Sympathy
|
View Messages of Sympathy
|
Printer Friendly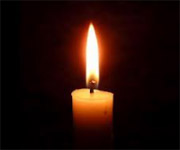 Yetta Biben, 97, passed away in the comfort of her home on Tuesday evening. Born on October 6, 1923 to Samuel and Lena Berman Lipkin, she was a life resident of Syracuse. She married Asher Biben on September 7, 1947.
They had been married for 53 years when he passed in 2000. Yetta was independent and lived a full life. She was a member of Temple Adath Yeshurun.
She will forever be remembered for her love and devotion to her family and friends.
She is survived by her son Eric; her daughter Dr. Maxene (Linwood Williamson) Biben; and her grandchildren Seth (Jacquelyn) Williamson; and Lacey (Kevin Hedrick) Williamson
Graveside funeral services will be at 11AM Friday in Frumah Packard Cemetery.
The procession will meet at 10:15 at Sisskind Funeral Chapel, 3175 E. Genesee Street.
www.sisskindfuneralservice.com
Message of Sympathy

Post a Message of Sympathy
Rick Andrea and I extend our deepest sympathies and I have included your mom in a prayer Wed night at our Lutheran service Again you and your sister's family have our deepest sympathy
Written by
Robert Narsh
2021-05-20 10:30:35 AM
---
So sorry to hear of Yetta's passing. I remember her as a very sweet and kind and practical lady. She was a happy and loving person with a great attitude towards life. It's pretty wonderful that she had 97 great years, and I know she'll be fondly remembered even longer than that. Condolences and Best Wishes to Maxene, Eric and the whole family.
Written by
Marc Kruth
2021-05-21 11:54:34 AM
---