Marilyn C. Miller
Post a Message of Sympathy
|
View Messages of Sympathy
|
Printer Friendly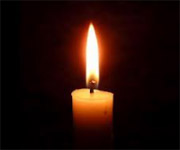 Marilyn C. Miller, 79, died Sunday evening at Crouse Hospital. Born on July 24, 1941 to Morris and Frieda Simon Miller, she was a life resident of Syracuse. Marilyn was proud to guide and teach many, many students during her career as a teacher in the Syracuse City Schools.
As an only child she was devoted to her parents of blessed memory. She cared for them in their senior years as they had cared for her until those roles reversed. Marilyn was a former member of Temple Adath Yeshurun and will be laid to rest beside her parents in the Adath Yeshurun Cemetery.
Besides her parents, Marilyn was predeceased by her dear friend Anne Meltzer who was truly like a sister to her.
She is survived by a close circle of friends who became her family
Graveside services in Adath Yeshurun Cemetery will be at noon on Thursday, June 3.
www.sisskindfuneralservice.com