Betty Flah Granatstein
Post a Message of Sympathy
|
View Messages of Sympathy
|
Printer Friendly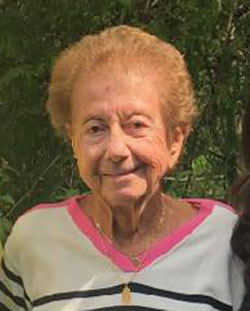 Betty Flah Granatstein, 98, passed away on June 5 at home in Fayetteville. A lifelong resident of the Syracuse area, she was born June 14, 1923, attended Nottingham High School and Cornell University, got an MA from Syracuse University, and worked for the state Dept. of Labor as a bi-lingual employment counselor. She volunteered in the community, including the local library, Meals on Wheels, and literacy groups.
Betty enjoyed many activities, including golf, swimming, tennis, reading, investing, theater, symphony, and bridge. She inspired others with her daily walks to stay fit, in all kinds of weather, and still at age 97. She and late husband Gordon were involved in the Flah & Co. clothing store family business. They were able to travel to many interesting places. Her large network of friends and her family of three children Nancy, David, and Judy, 4 grandchildren, and 2 great-grandchildren brought her much joy. Betty's independence and can-do attitude were an inspiration to many. She loved the Kimry Moor community where she lived and her winter friends in Florida.
The service will be at Sisskind Funeral Chapel on Thursday, June 10 at 11am.
The family will greet friends at Betty's home on Friday, June 11 from 2-4pm ,and Sunday the 13th from 2-5pm. Contributions in lieu of flowers can be made to the cause of your choice.
Message of Sympathy

Post a Message of Sympathy
No words can express my sadness at Betty's passing. Her biological age was irrelevant as she was always young at heart. Always active and with an enquiring mind - always taking an interest in her appearance (like me, her hairdresser was a priority!) - and always looking well groomed. I have such happy memories of our outings to the theatre, sitting together on the patio of her Sarasota villa, resolving all the world's problems - as well as our bridge games. She was a terrific player and so patient with me, definitely an amateur and adjusting to the American version of the game! I have a wonderful picture of us at one of these games, which takes pride of place on my living room mantlepiece - and it shall remain so. Rest in peace, Betty. Renée
Written by
Renee From France
2021-06-06 10:16:27 AM
---
My deepest condolences to your family. Lawrence Moloff MD
Written by
Lawrence Moloff
2021-06-07 12:58:25 PM
---
Ahavah Gadol to a loving woman and mishpacah. The ones we live with; laugh with, and love.Respecfully yours Niles GreenhouseMD and extended family Go Bulldogs
Written by
Niles GreenhouseMD
2021-06-07 2:20:53 PM
---