Chaim Roberts
Post a Message of Sympathy
|
View Messages of Sympathy
|
Printer Friendly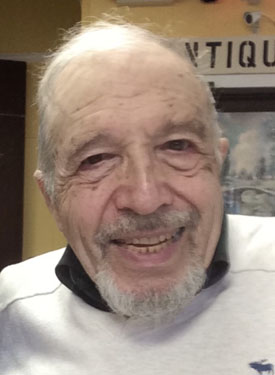 Chaim (Herbert) Roberts, 87.died at his home on Sunday. Born in Boston, he had been a resident of the Dewitt area for almost 50 years. Almost 50 years ago Chaim along with Rabbi Goldscheider and Rabbi Epstein established the High School of Jewish Studies; later renamed the Rabbi Jacob Epstein Hebrew High School. Chaim was a teacher throughout his professional career. Prior to retiring he was a teacher for the NYS Department of Corrections in Oneida. His dedication to his students made a tremendous difference in so many lives.
Chaim was an active member of the Shaarei Torah Orthodox Congregation of Syracuse section; and the Syracuse Men's Garden Club.
His family includes his wife Karen; their son Jonathan B. (Jaclyn, MD) Roberts and children Asher, Max (Chana), Hillel and Sarah; their son Lee A. Roberts; their daughter Rena (George) Tsounis and children Jadah, and Ivah; their daughter Sarah Roberts and their son Moshe Roberts, MD.
Graveside services will be at 10AM on Tuesday, June 15 in the Shaarei Torah Orthodox Congregation of Syracuse section of Oakwood Cemetery. Contributions in his memory may be made to the Congregation.
www.sisskindfuneral service.com
Message of Sympathy

Post a Message of Sympathy
Dear Family, we are so sorry to hear about the passing of Uncle Herbie. We are mindful that Herbie was the last of the three brothers, our father Walter and Uncle Frank. May all their souls rest in peace. We wish that we could be with you at this sad time. May his memory be a blessing.
Written by
Jeffrey and Rhonda Roberts
2021-06-14 11:35:21 PM
---
We are all deeply saddened by the passing of our Uncle Herbie. It's unfortunate that it takes a moment like this to make us realize the passage of time and how we take each other for granted until they are no longer there. We will always remember our Uncle with fondness for the gentle and wise man that he was, as well as the family get together's we shared when we were growing up. To Karen and family, please accept our heartfelt sympathy's for your irreplaceable loss. Love Janice, David, Jordan, Dustin, and Carly
Written by
David and Janice Roberts
2021-06-14 11:51:22 PM
---
Dear Family, I have very fond memories of Herbie as a young teenager and the caring man, husband, father and grandfather he became. I'm saddened to hear of his passing and wish Karen and all the family my deepest sympathy.
Written by
Rose Roberts
2021-06-14 11:53:12 PM
---
Dear Karen and cousins, We are so sorry to hear of the passing of Uncle Herbie.So many fond memories of a kind and caring Uncle and Brother to my Father Walter. Remembering a young enthusiatic newly wed's return from an Israeli adventure that changed his life becoming a devoted Husband, Father, Zayda,Teacher and a committed Member of the Jewish Community Your Canadian cousins, Michael, Carrie, Jacob and Sarah Roberts
Written by
Dr. Michael Roberts
2021-06-15 1:10:31 AM
---
Dear Aunt Karen and your entire family, We are so deeply saddened and shocked by the sudden loss of Uncle Herbie. His kind, caring and philosophical conversations, will stay embedded in our hearts. We where so fortunate, in our younger year's, to have spent time together with our families camping. The most endearing quality that your husband/father/grandfather/Uncle and once brother to Wally and Frank had, was his ability to give his undivided attention to what was going on in your life at that moment. Although, Uncle Herbie's Canadian relatives where far, he reached out to make sure he kept connected in someway. He would ask about every family member one by one until he was caught up on everyone's life. Family was everything to Herbie. Aunt Karen and all of the family, our thoughts are with you. Your husband/father/ grandfather will be ever so missed. Sending love to all. Joy, John, Zach, Adam, Danielle, Melisss and Shelby.
Written by
Joy Roberts
2021-06-15 3:08:18 AM
---
Dear Karen and Family: I am sorry to hear about Herbie. I have many Memories of Herbie as a young boy, and all of his Hobbies. He loved caring for his amazing Tropical Fish. Watching him care for them he was extremely proud. Herbie was a kind and caring man who loved his Wife Karen and each and everyone of his Family. He will be sadly missed.
Written by
Annette Roberts
2021-06-16 12:31:06 AM
---