Robert Millstein
Post a Message of Sympathy
|
View Messages of Sympathy
|
Printer Friendly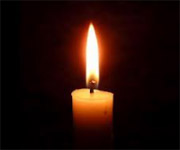 Robert "Bob" Millstein died peacefully at home on July 23. He was born in Syracuse on July 19, 1934 to Hyman and Fanny Millstein and was predeceased by his sisters Anita Groth, and Barbara Feinberg.
Bob remained a lifelong resident of Syracuse. He attended Nottingham HS after which he proudly served for four years in the Air Force. Bob spent his career in the office products industry as sales manager for Seymour "Mr. Pens" Simon, Inc., and was a proud member of the National Association of Writing Instrument Distributors (NAWID).
Bob was an avid SU sports fan and enjoyed a good round of golf with his friends. He was also known for his barbeque and culinary skills and learned many of his techniques from his favorite cooking shows.
Bob is survived by his loving wife Carole of 61 years; their children Dr. Jeffrey (Rose) Millstein, Susan (Dr. Tara Estra) Millstein and Stephen (Gina) Millstein; and grandchildren Michael Millstein,
Ian Millstein, Laurel Estra-Sciandra, and Maya Estra-Sciandra.
Funeral services will be at 11AM on Monday July 26 at Sisskind Funeral Chapel. Burial will be in the Beth Sholom section of Oakwood Cemetery.
Contributions may be made to Congregation Beth Sholom Chevra Shas.
The service will be live streamed on the Sisskind Funeral Service facebook page beginning at 10:55 on Monday.
www.sisskindfuneralservice.com
Message of Sympathy

Post a Message of Sympathy
Carole, We are so sorry to hear about Bob's passing and send you and your family sincere condolences. We will always remember all the times you and Bob shared in our family events. He was a very kind, generous and loving person. May you find strength in the love you receive from your family and friends at this very difficult time. Estelle & Stan
Written by
Estelle & Stan Lukoff
2021-07-23 8:17:07 PM
---
I am very sad of the passing of Bob. We have known each other all our entire lives. He will be greatly missed.
Written by
Maureen Slive Anderson
2021-07-24 1:24:09 AM
---
I am very sorry to hear about Bob's (Mr. Millstein's) passing. I have fond memories of going to your family home for many dinners during my college days with Sue. He and Carole were always so warm and welcoming and I will remember his kind and gentle presence. I am so sorry, Millstein family, for your loss. Sending love from afar.
Written by
Dawn Hamdi
2021-07-26 10:04:35 AM
---
Sue & Family - I was so sorry to learn about the loss of your father's passing. Please accept my condolences and know that you are in my prayers. If there is anything I can do to help or you just need to talk then I will always be there for you. All my sympathy, Jennifer Lee (BCCDP NYSDOH)
Written by
Jennifer Lee
2021-07-26 11:47:30 AM
---
Dear Carole, Jeffrey, Sue and Steven, Lynn and I are so sad about Bob's passing. The Millsteins have always been considered a part of the Wallace family for all our life-cycle events. May your memories help you get through the sadness and may Bob's memory be a blessing. Love you all. Larry
Written by
Larry Wallace
2021-07-26 12:42:18 PM
---
I was so sorry to hear about your loss. I know this is a sad and difficult time for you all. You have my deepest sympathy.
Written by
Tiana Wyrick
2021-07-26 7:11:45 PM
---
Carole and family. My condolences on your loss. I hope you'll be able to share some memories with friends and family and writing them down so you are reminded them forever.
Written by
Adam Goldberg
2021-07-27 6:09:24 AM
---
Dear Sue, Tara and family I am so sorry to learn of the death of Sue's Dad. I know that he was very loved and must have had enormous pride in his family. Keeping you in my thoughts - my deepest condolences to all who loved Robert.
Written by
Rachel Iverson
2021-07-27 8:08:38 PM
---
To the Moses family, so sorry for your loss. I sat next to your parents in the Dome for basketball season for a number of years. They were such a lovely couple. I missed when they stopped coming to the basketball games. Now that your parents are reunited may your dad's memory always be a blessing. With much Sympathy Rachel Rothman
Written by
Rachel Rothman
2021-08-05 7:44:15 PM
---