Gertrude Zell Tepper
Post a Message of Sympathy
|
View Messages of Sympathy
|
Printer Friendly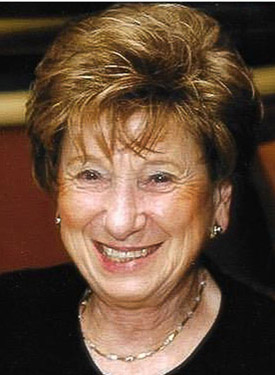 Gertrude Zell Tepper (age 98) died peacefully at the Jewish Home of Central New York on July 20, 2021.
Gertrude was born in Vienna, Austria in 1923, the oldest child of Sophie and Adolf (Avraham) Zell. After the Anschluss, (Germany's annexation) in March 1938, it was clear that they had to leave Austria. Gertrude's parents were unable to secure visas, but to save the children, they found places for Gertrude (age 15) and Paul (age 13) on the Kindertransport, which brought them to England and "into the arms of strangers".
Through somewhat of a miracle, her parents were eventually able to receive visas to the United States and were able to bring Gertrude and Paul to New York. They settled in Brooklyn, Paul went to high school and Gertrude began to work to help support the family. Paul later joined the US Army, took part in D Day and liberated Buchenwald concentration camp.
On the boardwalk in Brighton Beach, Gertrude was reunited with a childhood Zionist youth friend from Vienna, Leon Tepper who became the love of her life and husband of over 50 years. Together, they were devoted parents and raised four daughters in
Far Rockaway, NY.
Gertrude's love of family was her primary passion and her immense compassion touched all who knew her. She had "golden hands" and her creativity was seen in her sewing, knitting, crocheting, cooking, baking and gardening. She was an active member of her Jewish community and her love of Judaism and the values of tikkun olam: "repairing the world" guided her life. Throughout their life together, she and Leon traveled the world embracing the many cultures they encountered.
After Leon's passing in 1994, Gertrude moved to Syracuse to be closer to where her daughter Linda lived with husband Dr. Paul Cohen and their three children. She was warmly welcomed by the community and enjoyed a full and vibrant life in her later years. She was an active member of Temple Adath Yeshurun.
Her positivity, compassion and determination has served as a constant inspiration to her entire family, and her future generations. Her presence left the world much better than she found it.
She is survived by her daughters: Carol Sendach (Dr. Harris) of Roslyn, NY,
Linda Cohen (Dr.Paul) of Syracuse, NY, Sharon Gefen (Ehud) of Tel Aviv, Israel and Barbara Levy (Dr. Richard) of Saugerties, NY, her grandchildren Rebecca Cohen
(Dr. Brendan McGinn), Dr. Jonah Cohen (Dr. Elizabeth Housman),
Dr. Ezra Cohen (Dr. Kate Liberman), Keren Gefen (Yael Sela), Daniel Gefen, Adam Gefen,
Jonathan Sendach, Jack Levy, and Sophie Levy, and great grandchildren, Gabriel McGinn, Julian McGinn, Lillian McGinn, Noah Cohen, Avi Cohen, Ella Cohen, Iris Cohen, Tali Cohen, Liroy Sela-Gefen, and Nuri Sela-Gefen.
Graveside services and burial were in Mt. Lebanon Cemetery, Glendale, Queens, NY. Donations in her memory may be made to Temple Adath Yeshurun, 450 Kimber Road, Syracuse, NY 13224.
www.sisskindfuneralservice.com
Message of Sympathy

Post a Message of Sympathy
I remember your Mom and she was so sweet coming to the to the Y. She was a lovely lady. I am so glad I got to meet her.
Written by
Sybil Schultz
2021-07-25 3:58:32 PM
---