Lillian B. Glazer
Post a Message of Sympathy
|
View Messages of Sympathy
|
Printer Friendly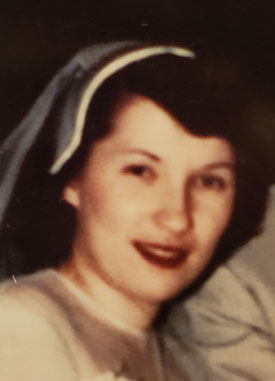 Lillian B. Glazer passed away peacefully on Wednesday, July 21 in Syracuse. She was born on May 29, 1926 in Newark, N to Nathan and Bessie Biberberg. Lillian was very proud of the date of her birth, as she shared it with Bob Hope, President John F. Kennedy and, as a lover of Syracuse University sports, Carmelo Anthony.
She was married to Sherwin Glazer, her husband of 68 years, who predeceased her in 2020. The photo is from her wedding day. Lillian also had three brothers who predeceased her, Sidney, Eugene, and her twin brother Morris who passed away several days after his birth.
She graduated from Weequahic HS in Newark and went to work immediately. Working and taking care of both her brothers and father (who was already a widower) kept her very busy. But Lillian found time to spend a weekend in the Catskills in 1951 and met Sherwin. They married in 1952 and she moved to Syracuse at that time. Sherwin taught her to drive as she never had the need in Newark. In 1963 they moved to DeWitt. She later attended Syracuse University and Oasis, taking many courses, with emphasis related to the movie and film industries.
Lillian worked part-time as a professional choreographer and worked in credit and collections in the family business J. Glazer & Sons. She and Sherwin both retired in 1987.
She was a lover of books and a voracious reader, mostly fiction. Her nightstand was always filled with reading material. Lillian was a devotee of music, both classical and show tunes. She had a large collection of Fred Astaire memorabilia and also some from Frank Sinatra. She loved receiving a card from the Sinatra family after she sent him a note of condolence on the death of his mother.
Survivors are her two children Bradley S. Glazer (Laurel Rubin) of University Heights, OH and Julia A. Glazer Reina of Somerville, NJ; her grandchildren Stephanie(Jeffrey) Walcoff, Andrew (Jillian) Glazer , Michael Reina, Leanne (Tommy)Reina-Paolazzi , and Jonathan (Lakeya Daniel) Reina; and her great- grandchildren Madeline Walcoff, Noah Walcoff, Juliana Paolazzi, Jonathan Reina (deceased) and Michael Ira Reina.
Donations in remembrance may be made to Temple Adath Yeshurun or Menorah Park, both of Syracuse, NY. Graveside services were private. www.sisskindfuneralservice.com