Linda Alexander
Post a Message of Sympathy
|
View Messages of Sympathy
|
Printer Friendly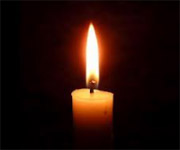 Linda Alexander, 77, passed away Wednesday evening In Rancho Mirage, CA with her loving children by her side. Linda was born in Brooklyn to Harry and Minnie Applebaum. After receiving her Bachelor's of Science in Mathematics she taught math at Paramus High School in NJ. Linda met her future husband Dr. Steven K. Alexander on a blind date set up by his Vietnam tent mate's wife; they were married 3 months later.
They settled in Syracuse, raised their family here, and enjoyed a full life. They both had a strong Jewish identity and supported many Jewish causes. Though Linda was from a
modest background she never lacked for anything. Jewish agencies provided educational programs, summer camps, and many opportunities.
In Linda's own words "My most fervent interest in all my fundraising was for the next generation - the children. The programs I am most proud of starting were the Teen Funders of the Foundation; the "Teen Taste of Israel program with the Epstein Hebrew High School where students were sent on a trip to Israel every 2 years during our February break; the Syracuse Community Hebrew school where all of the Synagogues Hebrew schools were combined into one school so that the children would all get to know other. To me, the children should always be the most important. They are our future."
After retiring the Foundation board named The Linda Alexander Teen Funders Program in her honor; she was thrilled.
Linda was the CEO and founding Director of The Jewish Community Foundation of CNY; and the Executive director of The Jewish Federation of CNY.
Her family includes her son Keith (Bea) Alexander and their daughter Mia; her son Eric (Apple) Alexander and their children Ethan, Mason, and Cooper; her daughter Karen (Aaron) Pomerantz and their children Zoey, Auggie; and her sister-in-law Eleanor Sontag.
Funeral services will be at 11AM on Tuesday August 3 at Congregation Beth Sholom Chevra Shas. Masks are required by the Congregation for everyone entering the building. Burial will be in the Temple Bnth Sholom section of Cortland Rural Cemetery following the service.
The service will be live streamed on the Sisskind Funeral Service Facebook page beginning at 10:55AM on Tuesday.
Shiva will be observed beginning at 7PM at Congregation Beth Sholom Chevra Shas on Tuesday August 3
Contributions in her memory may be made to The Jewish Federation of CNY, The Jewish Community Foundation of CNY, or Congregation Beth Sholom Chevra Shas.
www.sisskindfuneralservice.com
Message of Sympathy

Post a Message of Sympathy
Wishing you strength and comfort through this difficult time. Your family is in our thoughts and prayers. Much love, Karin and Javier
Written by
Karin and Javier Fischer
2021-08-03 12:45:07 PM
---
My deepest sympathy to Linda's family and devoted friends. I'd admired Linda's professionalism and intellect. She will be remembered as a loyal and thoughtful person. I will miss her.
Written by
Kim Predgen
2021-08-09 3:20:51 PM
---