Richard "Dick" Eggert
Post a Message of Sympathy
|
View Messages of Sympathy
|
Printer Friendly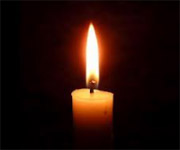 Richard "Dick" Eggert, 87, died peacefully at home on July 30. Born in Newport, RI on December 6, 1933 he was the son of Harry and Josephine Eggert. He grew up in Bradley Beach, NJ.
Dick graduated from Rutgers University and worked for Anaconda Metal Hose in Chicago; where he also met and married his wife Abby. They moved to Syracuse when he was transferred in 1963. In 1968 he established Flex-Hose Company.
He was a resident of Dewitt for almost 60 years making lifelong friends in the neighborhood and nearby. Dick was one of the earliest Presidents of the Men's Club of Congregation Beth Sholom Chevra Shas, and was an active
Member of the congregation since its earliest years. He was an avid fisherman, SU sports fan, and loved to travel with his family. Dick was known for his party planning, and his love of food, friends and family. He had a great sense of humor and loved a good joke.
He was pre-deceased by his wife Abby, and his brother Theodore.
His family includes his children Vicki Toran, Andrea (Stan) Speer, and Neil (Sharon) Eggert; and grandchildren Scott Toran, Julie and Rebecca Speer; and Jenna and Lindsay Eggert.
Funeral services will be at 1PM on Monday August 2 at Sisskind Funeral Chapel. Masks are requested.
Friends may visit with the family from noon to 1PM on Monday at the funeral chapel, 3175 E. Genesee Street. Burial will be in the Beth Sholom section of Oakwood Cemetery.
Shiva will be observed Monday the 2nd at Congregation Beth Sholom Chevra Shas beginning at 7PM.
Masks will be required for everyone entering the building.
Contributions in his memory may be made to Congregation Beth Sholom Chevra Shas
Message of Sympathy

Post a Message of Sympathy
We are so sorry for your tremendous loss. We are so sorry that we couldn't be with you in person, but we are holding you in our hearts and wishing you comfort during the difficult time.
Written by
Wendy Damsky
2021-08-05 11:03:17 AM
---
To the Beautiful Family of Dick Eggert: My heartfelt condolences to ALL. Dick was a wonderful man... a sincere and dedicated leader. Dick was also very compassionate and honest. His caring mentorship/leadership was extremely critical in developing my career. After Dick's retirement, we grew closer in our relationship and had frequent visits, dinners with he and Abby, and weekly (at least) phone conversations. It was during these times his truly unique humor became obvious. I WILL MISS Dick IMMENSELY!!! Bob Walsh
Written by
Bob Walsh
2021-08-15 8:30:16 PM
---