Randall Mark Rudolph
Post a Message of Sympathy
|
View Messages of Sympathy
|
Printer Friendly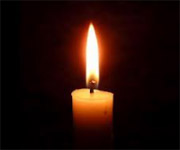 Randall Mark Rudolph, aka "Randy, and Rand" passed away August 10 just a couple of weeks before his 67th birthday in Vero Beach, FL. He is survived by his wife Lorie, three grown children, his dog Max, and his mother Fay Rudolph who he insisted she move from Syracuse, NY to Vero Beach where he was. Also surviving are his father Lester Rudolph, his aunt Barbara Finley, and several cousins in Silver Spring, MD and Alexandria, VA.
He was pre-deceased by his grandparents Shirley and Harold Finley, Irene and Seymour Rudolph , and great grandparents Judge Nathan and Sophie Abelson who he loved very much.
He graduated from Alfred University where he was active in his fraternity and still kept in touch with quite a few. He enjoyed watching sports and one summer he went to baseball camp in Ft. Lauderdale, also liked to have the boys over for card games. He had a green thumb and grew a large olive tree which was around the pool. He was very sensitive to the feelings of others. He is greatly missed. Funeral services and burial were in Florida.