Gertrude B. Kamp
Post a Message of Sympathy
|
View Messages of Sympathy
|
Printer Friendly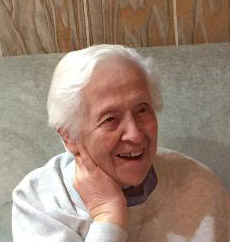 Gertrude B. Kamp, 96, passed away Wednesday at Crouse Hospital after a brief illness. Born in Brooklyn to Joseph and Leah Bohm, she had been a resident of Syracuse since she and her late husband Paul were married in 1946.
Gertrude had been a member of Temple Adath Yeshurun since coming to Syracuse.
Her family includes her children Helene (Gerry) Rubenstein, Beverly Shor, Deborah Kamp, Nancy (Leo) Sawyer, and Jason Kamp; her 6 grandchildren; and 8 great-grandchildren. She was also pre-deceased by her 3 sisters.
Graveside services will be at 11AM on Friday the 10th in Adath Yeshurun Cemetery. Burial will be next to her husband Paul of blessed memory who passed away 31 years ago to the day; and her beloved daughter Aviva who passed in 2012.
Message of Sympathy

Post a Message of Sympathy
Good memories of being over the Kamp house. Mrs. Kamp was always nice and funny, not afraid to trade barbs. Condolences to the family.
Written by
Dave Heller
2021-09-10 10:15:59 PM
---