Isaac James Tenenbaum
Post a Message of Sympathy
|
View Messages of Sympathy
|
Printer Friendly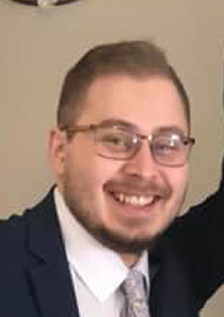 Isaac James Tenenbaum, 22 died early Saturday morning. Born in Syracuse on April 10, 1999 he had lived his life in Syracuse. He was a graduate of The Syracuse Hebrew Day School; then a graduate of The Big Picture in the Lafayette school district where he was a member of the varsity football team. He had also been on the varsity wrestling team at Fabius Pompey middle school. He enjoyed playing baseball with several summer leagues as well traveling teams.
He had been a line cook and then a sous chef at Pappagallo of Fayetteville where he was truly beloved by the staff and customers alike. He had most recently worked in field sales for Erie Construction Company.
His family includes his parents Lori Tenenbaum and Christopher Waddell, and Abe and Monica Tenenbaum; his sister Sadie Tenenbaum; his brother Riley Waddell; grandparents Syd Tenenbaum and Deidre Zehner, Cindy and Rich Annunziata, Susie and Norm Davis, and Glenn and Kelly Thresher; uncles Curtis Thresher and Troy Thresher; his aunt Helaine Reaves; and his cousin Kai Valentine. He also had a large and loving circle of friends who were truly like family.
Isaac lived up to the meaning of his name, which is "one who laughs". His outgoing personality and witty sense of humor kept all who were around him laughing as well.
Funeral Services will be at 2PM on Tuesday the 14th at Temple Adath Yeshurun. Masks and social distancing will be required. Burial in Adath Yeshurun cemetery will be private for the immediate family.
In lieu of flowers, contributions to perpetuate his memory may be made to the Syracuse Hebrew Day School. You are welcome to share your memories and photos of Isaac by emailing to:
MemoriesofIsaac@gmail.com
The service will be live streamed by going to www.adath.org and then click on the stream spot link beginning at 2PM on Tuesday.
Message of Sympathy

Post a Message of Sympathy
Thoughts & prayers are with all of you in this time of sorrow….love you all 💙
Written by
Tom & Jessica Skinner
2021-09-12 11:49:23 PM
---
Abe and Monica words are very difficult to write on the loss of a child. We're very sorry for your the loss of your son Isaac. Our deepest condolences goes out to you and your family during this difficult time. Your family is in our hearts and prayers.
Written by
Tony Gugliuzza
2021-09-13 11:17:37 AM
---
There are no words to convey how deeply sorry I am. He will always be remembered with a smile on his face. Love and prayers to you all.
Written by
Stacy Tessier
2021-09-13 12:06:09 AM
---
Abe and Monica, There are no words I can say to make anything easier in the loss of your son. You and your family are all in my thoughts and prayers. Anything Jon and I can do for you please don't hesitate to ask, we both are here for you.
Written by
Mariane Koegel
2021-09-13 12:23:45 AM
---
Abe Monica, Sadie, Susie, Syd Lainie, Lori Kai, And all the Family, I have no words to express this loss. My Heart is broken for you all. May God be with you all and May Isac Rest In Peace. My Love to you all.
Written by
SANDRA LAYTON
2021-09-13 12:46:41 PM
---
Going to miss you dearly friend
Written by
Andrew Park
2021-09-13 12:54:57 AM
---
Abe & Monica, TJ and myself are sending our deepest sympathy in the loss of Isaac. Our hearts and prayers go out to you both and to your entire family. We are here for you both in this very difficult time.
Written by
Claudia Wilson
2021-09-13 1:45:57 PM
---
I am so sorry for your loss. Thoughts and prayers to everyone in this difficult time.
Written by
Dale Abbuhl
2021-09-13 4:05:34 PM
---
Hamakom y'nacheim etcheim. May you be comforted by God, your family and your community. We are saddened beyond words for your loss.
Written by
Morrisa Golden-Sieradski
2021-09-13 4:06:29 AM
---
Abe, and family, So sorry for your loss. Keeping you in my prayers at this difficult time.
Written by
Pat Donlon
2021-09-13 5:11:02 PM
---
My dear Abe & Monica - there are no words that can comfort you on the tragic loss of Isaac. I know you will cherish his memory every day of your life and take comfort in the love he gave to you and the continuing love you have for him. You are in my prayers always.
Written by
Donna Silverman
2021-09-13 5:39:55 PM
---
RIP friend and old roommate. U will be missed by all the peoples lives you touched
Written by
Joseph Quigley
2021-09-13 5:45:17 PM
---
Susie and family, sharing in your sadness with deepest sympathy as you remember Isaac. Sending healing prayers and comforting hugs
Written by
Patty & Marty Nance
2021-09-13 7:02:19 PM
---
My sincere condolences on the loss of your beautiful son Abe
Written by
Jamie Coluccio
2021-09-13 7:36:06 PM
---
Lori, Chris, & Sadie- Sending you all our utmost condolences. We've truly enjoyed getting to know Isaac, and he will be deeply missed. We love you all and our thoughts are with you. Shelly and Dustin
Written by
Dustin & Shelly Page
2021-09-13 9:56:53 PM
---
To my dear family Abe, Lori, Uncle Syd, Aunt Suzy and Helaine...our heartfelt condolences. Nothing but fond memories of the limited time I was lucky enough to spend with Issac - such a genuine soul with a infectious smile when with family. Know our thoughts and prayers will be with you during this difficult time. Our love - Jim and Melissa
Written by
James Lawrence
2021-09-14 1:49:23 AM
---
So sorry for your loss. My thoughts and prayers go out to you all.
Written by
Dan Horan
2021-09-14 5:25:36 PM
---
Dear Lori, Sadie, Abe, Sid and entire family: There are no words of comfort that we can offer that can possibly ease your pain. But know that we and the whole community are here for you and you are all in our thoughts and prayers. May Issac's memory, the love and the laughter, be a blessing forever. Our sincerest condolences, Ellen & Howard
Written by
Ellen Weinstein
2021-09-14 7:15:48 PM
---
Condolences and deep lamentations to a man taken away too soon. Ahavah Gadol und tsoros to a wonderful family. Respectfully yours Niles and Jonita plus extended family
Written by
Niles GreenhouseMD
2021-09-15 2:14:43 PM
---