Adeline Jasper
Post a Message of Sympathy
|
View Messages of Sympathy
|
Printer Friendly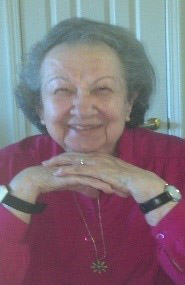 Adeline Schwartz Jasper, 97, of Jamesville, NY passed peacefully September 20, 2021 at The Nottingham. Adeline or Addie as she was known, was born in the Olney section of Philadelphia, PA and was married to Martin N. Jasper for 52 years until his death in 1977. Adeline grew up and raised her family in Philadelphia and Bucks County, PA. Adeline kept the family involved in Jewish life and ceremony and was an active member of Temple Beth Or and Shir Ami in Philadelphia, and later, Temple Concord in Syracuse, spending time working at the Temple Concord Food Pantry as her health allowed. She worked most of her life in clerical and purchasing positions, until retirement as a Contract Negotiator, Civil Servant for the US Navy.
Adeline will always be remembered for her love and devotion to her family and the example she set for them through her strong work ethic and genuine concern for making sure the family was always close and together. In addition to her husband, Adeline was pre-deceased by her daughter Sandra Lee Jasper Weissman, and three sisters: Mildred, Beatrice and Florence.
She is survived by her son Neil (Charlotte) Jasper, six grandchildren: Adam (Kelly) Weissman, Zeth Weissman, David Jasper, Steven Jasper, Benjamin (Theresa) Ireland, and Braydon (Jaclyn) Ireland; and 5 great granddaughters: Sophia Adele Weissman, Maeve Olivia Ireland, Molly Marie Ireland, Sephina Jasper, and Carlin Rae Ireland.
Graveside services and burial will be Friday, September 24 at 11:30 AM at the Roosevelt Memorial Park in Bensalem, PA with a celebration of her life to be held in Syracuse, NY at a later date.
Contributions may be made in Adeline's memory to the American Cancer Society, or the American Heart Association. Sisskind Funeral Service has arrangements.
Message of Sympathy

Post a Message of Sympathy
My sincere condolences to the Jasper family. May her memory be for a blessing. So many memories of desserts and conversations at the Jasper's dining room table. May she Rest In Peace together with Mr Jasper and her loved ones who went before her.
Written by
Sandy Konefsky
2021-09-22 9:13:33 PM
---