Margaret Sarah "Marge" Copp
Post a Message of Sympathy
|
View Messages of Sympathy
|
Printer Friendly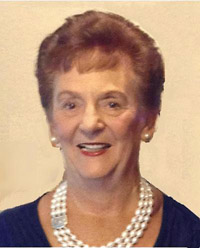 Margaret Sarah "Marge" Watson Copp, 85, of Syracuse, NY passed away peacefully in the presence of her loving family on Saturday, September 18, 2021. Marge was a beloved wife, mom, grandmother, aunt and friend who left this world a better place through her acts of kindness and boundless expressions of love.
Marge was loved by all. With a warm smile and an even warmer hug, once you met Marge, you became family. She loved spending time with her family above all else. And many of those family gatherings included watching her beloved Yankees on the TV! She loved to golf and walked the course three days a week, sometimes playing 36 holes in one day. With such amazing energy, you could find her jumping in a bounce house with her grandchildren, playing games, or making her famous chocolate chip cookies. If you visited Marge, you were likely to be sent home with a plate full! But above all else, you were sure to be wrapped in her unconditional love!
Marge is survived by Robert W. Copp, her beloved husband of 65 years and their three daughters and two sons, Debbie Kaltenbach and husband, Alan of Lafayette, NY; Donna Giarrusso and husband, John of Syracuse, NY; Diane Miller and husband, Dan of Scottsdale, AZ; Robert Copp Jr and wife, Kathryn of Syracuse, NY; Bill Copp and wife, Angela of Marcellus, NY. She also leaves behind her precious Peaches, her Yorkie Poo Terrier who was always by her side.
Marge is also survived by 21 grandchildren, Jennifer Copp, Renee Tousant, Joe Kehn, Bill Cleveland, Chris Cleveland, Sarah Cleveland, GG Giarrusso, Josie Giarrusso, Patrick Miller, Nathaniel Miller, Colin Miller, Caitlyn Flores, Kean Miller, Makenna Miller, Jessica Copp-Driver, Robert Copp III, Emily Kelly, Chris Carroll, Carly Connors, Zach Copp and Dani Copp. In addition, Marge also had 34 great grandchildren and 3 great great grandchildren.
Calling hours will be held from 12:30 to 2:30 p.m. Saturday, September 25 at St. Paul's United Methodist Church, 2200 Valley Drive, Syracuse, NY. Service immediately following. Masks will be required.
In lieu of flowers, Marge's family has requested donations to be made to St Jude's Hospital, Shriner Hospital or Humane Association.