Bruce Shafiroff, MD
Post a Message of Sympathy
|
View Messages of Sympathy
|
Printer Friendly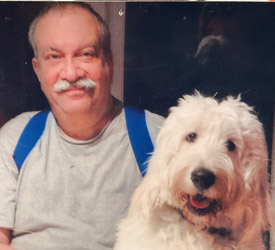 Bruce B. Shafiroff, MD, 74, passéd away on September 13 in Rochester, NY after complications related to a kidney transplant. 
Born on July 7, 1947 to Charles and Selma Shafiroff in Brooklyn, he had been a resident of Syracuse since 1980 when he accepted a position with SUNY Upstate Hosptial.
Bruce was a graduate of Middlebury College, and earned his medical degree from the University of Vermont Medical School .  He was a resident at Montefiore Hospital in the Bronx where he interned in general surgery ; he then continued his residency in plastic surgery at Montefiore Hospital as well.  He  served a fellowship in mircro-sugery in Melbourne, Australia; and then moved to Louisville, KY where he served another fellowship in hand reconstruction micro-surgery.
In the mid 1980's he established his private practice located in the Madison-Irving Physicians building until retiring.
He was a member of Temple Concord, the Onondaga County Medical Association, The Hand Society, and The Micro-Surgery and Reconstructive Surgery Society,  
Bruce was  a loving and devoted husband and father.  He thoroughly enjoyed spending time in his garden; had a love for animals especially his labradoodle Pavlov; and was an avid reader~ he was a walking encyclopedia.
His family includes his wife Shirley of almost 50 years, their daughter Anne, his brother Scott, and his sister Nina.  He was pre-deceased by their son Michael .
Contributions to perpetuate his memory may be made to Helping Hounds of Syracuse, or  Roswell Park of Buffalo.
Services and burial were in S. Burlington, VT
www.sisskindfuneralservice.com
Message of Sympathy

Post a Message of Sympathy
Deepest sympathy goes out to The Shafiroff family during this most difficult time. I am honored to have had such a caring surgeon and Dr during my diagnosis of melanoma. He was just as caring after the diagnosis for my well being. I will Always Be Forever Greatful. You will be Greatly missed my Friend may you RIP and your family be comforted.
Written by
Jennifer Marsh
2021-09-26 9:40:02 PM
---
So sorry for the loss of your loved one. He was my doctor when I was undergoing reconstructive surgery for breast cancer. He was a kind and caring doctor. I remember during one of my surgeries he apologies for being late because he was piercing a little girls ears after her surgery because he promised he would. Know that he touched so many people's lives in a positive way.
Written by
Sheila Czyz
2021-09-28 12:26:30 PM
---
I felt so sad to hear Dr. Shafiroff passed. He was a wonderful man! He repaired some tight suture.lines. on my neck. And removed a non- systemic amyloid from my lower leg. He was so kind and gentle with me " an anxiety mess" I also loved his old movies he would show in the waiting Room. And will remember his gorilla Who sat in the waiting room chair. Then to see his picture with his dog! I feel bad for his.dog wandering the the home and garden patiently looking for him. My sympathies to his wife. Colleen Hulbert
Written by
Colleen Hulbert
2021-09-30 11:42:28 AM
---