Maurice "Moe" Silverstein
Post a Message of Sympathy
|
View Messages of Sympathy
|
Printer Friendly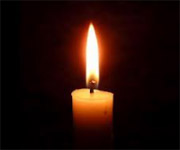 Maurice "Moe" Silverstein, 83, passed away on Wednesday, September 22 at the Bishop Rehabilitation Center. Born in Brooklyn to Joseph and Sarah Silverstein on June 5, 1938 he had been a resident of Syracuse since 1964. He and Susan met at a Jewish Community event and were married within a year. They settled in Syracuse, raised their children here and enjoyed a wonderful life.
Maurice had been an electronics technician for the Carrier Corporation during his professional career. He was a member of Temple Concord.
Maurice was an avid baseball fan. He never missed a Brooklyn Dodgers game during his childhood~ he hated the Yankees.
His family includes his wife Susan, their son Larry, and their daughters Judy (Ray) Breitenbach, Stacey (Jeremy) Kelley; and their grandchildren Mitchell, Samuel, and Owen.
Graveside services in the Temple Concord section of Woodlawn Cemetery will be at 11AM on Monday, September 27.
Contributions to perpetuate his memory may be made to The American Diabetes Association, or Temple Concord.