Steven R. Heller
Post a Message of Sympathy
|
View Messages of Sympathy
|
Printer Friendly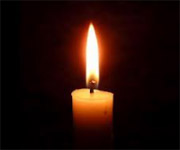 Steven R. Heller, 75, passed away Thursday night at University Hospital. Born in Queens, NY
On September 28, 1946 to Louis and Sylvia Heller, he had been a resident of Syracuse since 1978.
Steve was a graduate of CW Post College. Following graduation he and Barbara moved to Greenwich, NY where he worked for the Boy Scouts of America as an organizer of troops in the Albany area. In 1978 he was transferred to Syracuse.
Shortly thereafter he took a career change and became an independent sales representative of women's apparel.
He and Barbara enjoyed a close circle of friends who became family; and with the birth of their daughter Rebecca enjoyed a good life in Syracuse.
Retirement brought a new career change for Steve as he became the primary caregiver of his grandson Ethan, and then Norah as well. Being "Gaga" to his grandchildren meant the world to him.
Steve's family includes his wife Barbara of 50 years; their daughter Rebecca (Chris) Koch; adored grandchildren Ethan and Norah; brother Bruce (Linda); cousins Arlen Carr, Merryl Goldman, and Jeff Carr; and brother-in-law James Sorkin.
Graveside services and burial will be at 11AM Tuesday in the Fayetteville Village Cemetery.
www.sisskindfuneralservice.com
Message of Sympathy

Post a Message of Sympathy
Barb and Rebecca I'm very sorry for your loss, he was a good man.
Written by
Mark Carr
2021-10-26 11:28:51 PM
---
My sincere condolences. Having only recently reconnected I was shocked to hear of Steve's passing. May his memory be for a blessing.
Written by
steven goldschein
2021-10-26 1:18:23 AM
---
Dear Barbara, Rebecca, Chris and family. Please accept my condolences with love. Steve was such a gentleman. I know your loss will be tempered with your fond memories. Love to you all. Pat
Written by
Patricia Santulli
2021-10-26 5:47:56 PM
---
Dear Barbara, Rebecca and Chris, I am so sorry to hear of Steve's passing. He was the epitome of a loving husband, father and grandfather. His loving spirit will be with all of you forever. There are no words that can help at a time like this. I will always remember your Dad with love. Sending you prayers of strength. Love, Lisa
Written by
Lisa Hellier
2021-10-26 9:41:50 AM
---
Barbara, Rebecca and Family, We were sorry to hear of Steve's passing. He was a wonderful human being. May you take comfort in your loving memories and the friends and family that surround you. Our deepest condolences, please know you are in our thoughts and prayers. With Friendship and Love, The Caccamo Family Stephanie, Steve, Hannah & Grace
Written by
Stephanie Caccamo
2021-10-27 1:55:26 AM
---
Barbara and family, I am so very sorry to hear of Steve's passing. Thinking of you all during this difficult time.
Written by
Becky Wenner
2021-10-29 1:39:39 PM
---
Dear Barb and Becca, I am so sorry to hear of Steve's passing. He was such a kind and warm person, and so proud of his family. My prayers are with you all.
Written by
Nancy White
2021-10-31 6:46:12 PM
---